Specially designed for Pediatric Dentist waiting rooms!
OAC. Subject to partner terms. Contact Sales for exact payments.
Minimum 620 FICO score, In business 2+ years, No major credit issues in last 2 years.
Better prizes, less cost, happier patients= Glow Smiles
The Glow Smiles Machine is designed specifically for the prize delivery process used in pediatric dental offices all over the country.
Vtail has earned worldwide recognition for our premium prize delivery systems in all sorts of family fun environments. Now pediatric dentist offices can be fun and engaging offering the same types of prizes that are often seen at every Disney property. What's better is that with Vtail's operator network the cost of your premium prizes can be less than $.10 each!
Every Glow Smiles Machine comes outfitted with our high definition video monitors with built in media players that are set to run funny and educational video occupying siblings your waiting room. Combine the video with the 150+ flashing lights on the prizes and you have some serious eye candy! All of this inside approx. only 1sq ft.
See what our happy customer's are saying-
Dr Michele Savel testimony for the Glow Smiles Machines
"We started with 1 Glow Smiles Machine at one office. It was such a hit that we decided to get them for our other offices. My staff and I really like the look of the machine, the videos, and the prizes but most importantly- so do our patients and their families!"
Vtail has special placement programs for Pediatric Dentist Offices where you can get a machine for FREE! Contact Sales now to find out how you can upgrade from your old system to a Glow Smiles Machine and earn $1000 in prizes! Guaranteed no brainer!
With the machine's Winner Every Time technology your entire inventory sells at the same pace assuring 100% sell through


Customers can experience satisfaction with the prizes out of the machine as well as higher end prizes through Web Vend Technology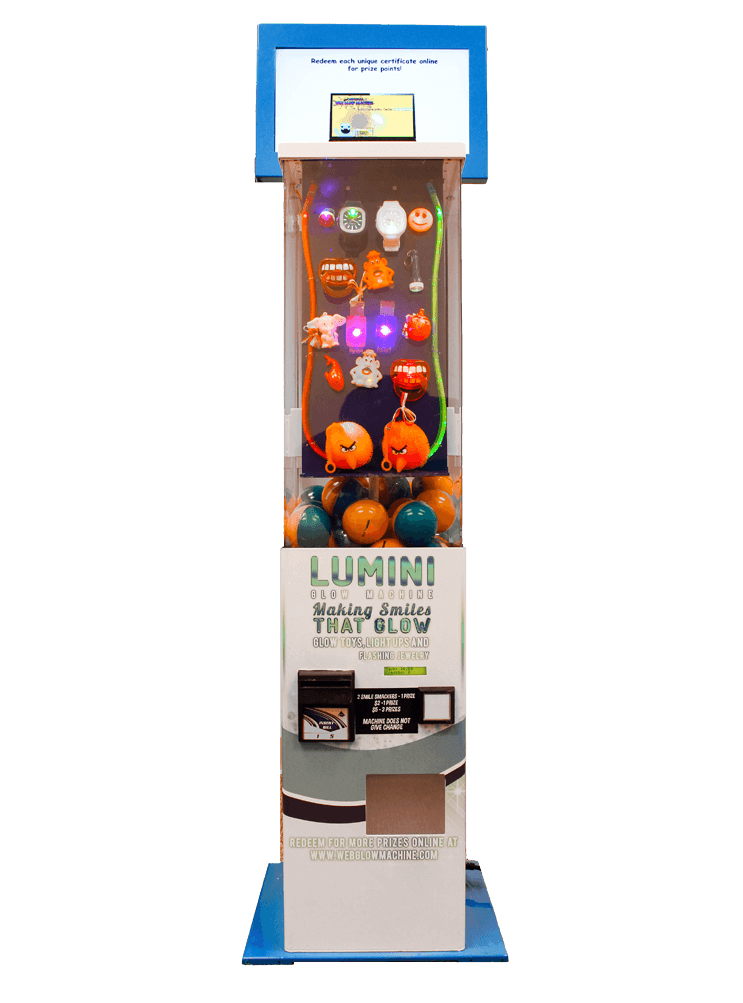 Quality is paramount at Vtail. We have strict quality control measures that every machine goes through before it is ready to ship to a customer.


Highest ROI In 4 Square Feet
While only using 4 square feet the Web Glow Machine has got tremendous presence that grabs a lot of attention on location. VTail's highest ROI machine.
Model Includes
Pyramid bill acceptors
HD Video monitors
Looped Video
Locking Casters
14 Guage, Heavy Cold Rolled Steel Cabinets
110V
WebVend Technology (TM)
Made in the USA
Optional Features
Custom video with your logo/brand
Credit card readers
Redemption card readers
Token acceptors
Ticket dispensers
220V
Customizable vend price
How do I pay for my equipment purchase in monthly payments (vs cash or credit card)?
Vtail partners with 3rd party finance companies to allow our customers additional payment options. All payment plans are OAC and subject to the terms and conditions established by the 3rd party finance partner.
How long does it take to receive product refills?
Delivery time for product refill orders can vary depending on which refills are being ordered and where the product refills are being shipped. Please contact Vtail's shipping department or your Account Manager for shipping updates.
How long does it take to receive my machine?
Delivery time for your new equipment can vary depending on the equipment selected, where your equipment is being shipped,and any other special options. Our equipment is made in the USA with attention to detail and quality being paramount. If you have any questions about delivery please contact Vtail Sales.
What is Buyer's Club?
The Buyer's Club is a voluntary club that allows customers free displays and discounts on product. Current promotions provide customers with 450 prizes at no charge when a customer enrolls in the Buyer's Club. Ask your Account Manager for details on joining the Buyer's Club.
How do I get tech support?
If you require any tech support for Vtail equipment please contact Vtail's production team. Vtail's equipment is made in the USA. If you need any assistance with your equipment you can speak with a team member that participated in building your equipment.
Where can I see Vtail equipment in person?
Vtail works with location partners all over the world. Contact Vtail Sales to see if there is a location near you.
Does my equipment come with a warranty?
Yes. All new Vtail equipment come with a comprehensive warranty. See Vtail Terms Of Sale for details.